So you want to Re-evangelize? Catch Abbot Nicholas on EWTN Live tonight
Tonight, on EWTN Live, abbot Nicholas of the Holy Resurrection Monastery in Wisconsin will be the guest. I had the pleasure of hearing him speak at my parish this past weekend. His topics were on Christian mysticism, re-evangelization, ethnic and church traditions, and similar topics. I was particularly interested in the re-evangelization topic as I had been recently listening to Fr. Hardon speak on this from a lecture in 1992.


It's interesting to note, as even the Abbot himself said in one talk, that even though the Oriental church and the Western church have different ways of discussing various theological concepts, they really are talking about the same thing. Sometimes, however, hearing a concept discussed from a different angle can give you your own new insights to the same topic. Hopefully, this will give you some insights, too.
In the West, Christian churches are shrinking dramatically. However in Africa and in Asia they are growing. There must be a difference then. What is different in the West that people are leaving the Church?
He got into topics such as ethnic parishes, and the loss of those in America (a topic we've discussed here). But he really drove to a point about the focus of western thought and discussion: we've abandoned the soul.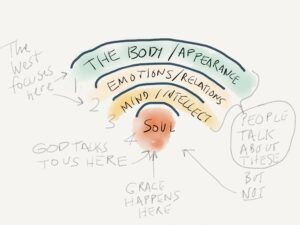 He gave an illustration of the "layers" of the person (I made it into the diagram). On the outside, we have appearance and body; just under that, the emotions and relationships; and, beneath that is the mind and intellect. But, deep within each of us is the soul… The "mystical center" of the person. It is here, he asserted, that God communicates with us. Our intellect cannot even reach into this place and comprehend what happens there, but it is real, and it is where our identity is deeply rooted.
Abbot Nicholas reminded that we must be active in our own mystical lifers order to bring grace. Grace in the eastern framework is seen as the direct interaction of God. In the west, it tends to be described as a gift of God. Again, this is a place where the same substance is discussed but from different views.
In 1992, Fr. Hardon gave a series of lectures in re-evangelization. In that series, Father diagnosed the west as suffering from neopaganism and recommended that we learn and understand our faith better, but also that we work in the sacramental life to increase grace!
[p.s. I've never liked the term "new evangelization" because it implies that the old is wrong… Same gospel and same Jesus today… Hence, I prefer, as did Fr. Hardon and apparently Abbot Nicholas to say re-evangelization]
Needless to say, I was pleased to see these different lectures on re-evangelization arrive at the same place: we must rely on grace and God's active role among us. Too often I hear people suggest solutions to the problems today that are limited to the first three layers — they say we must appeal to emotions, or they suggest elaborate rhetorical ploys, or becoming friends. All those methods are fine only so long as the 4th level, that of the spiritual life is kept first.
There's much more to say on this…
For now, be sure to catch Abbot Nicholas tonight at 8 eastern on EWTN.
Questions:
When you look at that diagram, can you see how nobody talks about things deeper than the mind anymore?
Think of St. Monica — did she argue her son back into the Church? How did she do it? Or, rather… How did she get God to do it?
Have you ever patiently prayed for God to intervene in a situation? Do you live with the expectation that He is actively engaged in the world around you?

This article, So you want to Re-evangelize? Catch Abbot Nicholas on EWTN Live tonight is a post from The Bellarmine Forum.
https://bellarmineforum.org/so-you-want-to-re-evangelize-catch-abbot-nicholas-on-ewtn-live-tonight/
Do not repost the entire article without written permission. Reasonable excerpts may be reposted so long as it is linked to this page.