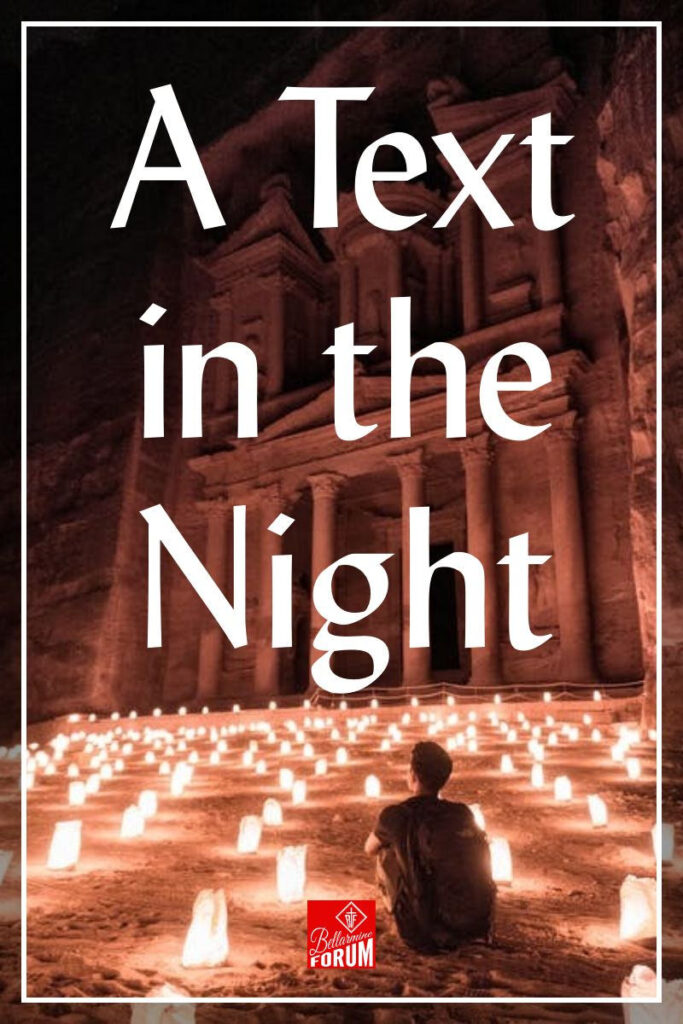 I have been distressed since the beginning of the coronavirus epidemic by the death toll. Remember last spring, deaths loudly bewailed in media interviews, bodies in refrigerated trucks, hospitals overrun. Yes, distressing, but not for the reasons you might think. Because of the contagion, these coronavirus cases were in strict isolation. Those victims died alone, unprepared to meet the Living God. If that isn't unprovided death, I don't know what is. You become ill, no time to get shriven, you go to the hospital, maybe by ambulance, to be made well again. After all, this isn't the 1890s when hospitals had a reputation as places to die. And instead, oxygen, heavy sedation, intubation, ventilation, and almost all chance of even a quick blessing is gone. In an interview, a nurse in my locality said going on a ventilator is like a death sentence. 
So many souls, those most in need of the consolations of Mother Church, left utterly bereft of them. It is a helpless feeling to observe these things.
True to her mission of saving souls, the Church has inserted her graces into this dire situation. Throughout Europe and this country, many dioceses – New York, Chicago, Boston, Minneapolis, to name a few – have assembled Covid anointing teams of priests who have volunteered to anoint the sick and dying in their isolation rooms. Specially trained in protective practices and living on a quarantine basis away from assigned parishes, the priests are prepared to administer last rites, anointing, the Sacraments of Penance and Holy Eucharist. It's the answer to a what-would-Jesus-do question. Blessing attending healthcare workers is a welcome add-on to their ministry.
And I have come, albeit a little late, to know that we laity can be a part of this. In our archdiocese, we can sign up to receive a text each time a Covid-19 Anointing Corps priest is dispatched to give the Last Rites. (go to eva.us/ and add your diocese name.)  As the parish bulletin reported: Upon receipt of the text, those in this ministry commit to take a moment to pray: One Our Father for the patient who is in danger of death, as they prepare to meet our Heavenly Father face-to-face; One Hail Mary for the patient's family and friends, asking the Blessed Mother, Our Lady of Sorrows, to intercede to comfort them; and One Glory Be in thanksgiving for the priest and for his protection, as well as the medical team attending to the patient.
The text message that is received reads:
Anointing: A priest is anointing an individual suffering from Covid-19. Please pray: Our Father, Hail Mary & Glory Be. St. Roch, pray for us.
At last, a small way to help in this crisis.  And the texts come, any time of day or night, not now as many as last spring to be sure, but yet daily several souls are about to meet their Creator.  A small thing, short prayers, an intention that perhaps that can be added to the Divine Mercy Chaplet or Rosary. One cannot be at the bedside praying
 "Go forth, O Christian soul, out of this world, in the name of God the Father Almighty, who created you; in the name of Jesus Christ, the Son of the Living God, who suffered for you; in the name of the Holy Spirit who sanctified you…"

("Sacraments of the Sick," St. Andrew Daily Missal, 1962).
But praying for the living and the dead at this time is way to be the whisper of mercy for someone.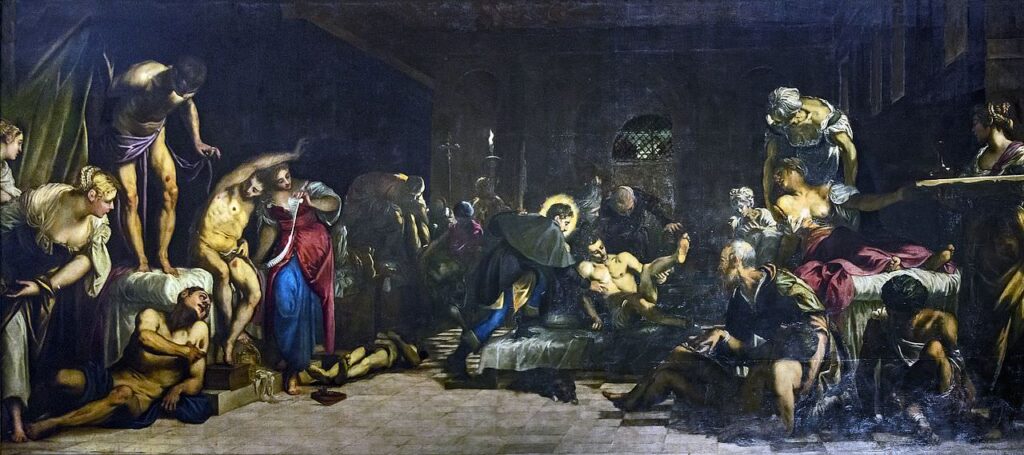 A Word About St. Roch
I confess not being well-acquainted with St. Roch, or Rocco, feast day August 16. He is, apparently, legendary, in both aspects of the word: He is known and prayed to because of amazing miracles he performed and the facts of his life are sparse, intertwined in many legends.
Born in 1295 (depending on which account you read) in Montpellier, France, Roch is said to have had a cross-shaped birthmark on his breast and the gift of healing. On pilgrimage to Rome, he found many cities engulfed in a severe epidemic of some sort (the years in one account do not match the Black Death). He cared for the sick wherever he went and cured many with the sign of the cross, including a cardinal in Lombardy. At Piacenza, Italy, he contracted the illness and went off to stay in the woods until death so as not to burden anyone. A dog found him and brought him bread, and upon discovery of the sick healer, the master took care of him. Hence, depictions of Roch show him with a bandaged leg of the illness and a dog by his side. Once cured, Roch returned to the Piacenza and cured the sick again. When he returned to his home town some years later, he was not recognized and it was only after his death, after 5 years of being in jail, was his birthmark and identity known. He died in 1327 and his remains are in the Church of Saint Rocco in Venice. He was publicly revered as a saint after his death and many miracles attributed to his intercession. He is invoked in times of pestilence, as in the bubonic plague years in 1477-1429 in northern Italy. 
According to The Golden Legend (Legenda aurea/Legenda sanctorum) by Bl. Jacobus de Varagine, Roch's lifespan encompassed different years than listed in Butler's Lives of the Saints.  The Golden Legend was written in simple Latin and widely read in the Middle Ages. It is a collection of hagiographies about saints, added to in subsequent years and beautifully illustrated. 
About Roch it is written,
Anon an angel brought from heaven a table divinely written with letters of gold into prison, which he laid under the head of S. Rocke. And in that table was written that God had granted to him his prayer, that is to wit, that who that calleth meekly to St. Rocke he shall not be hurt with any hurt of pestilence.
May St. Roch and Divine Mercy assist us in these days of trial. 
Sources:
Butlers Lives of the Saints, Vol. III, Herbert Thurston S.J. and Donald Attwater, Christian Classics, Westminster, MN  1926 and 1956.

This article, A Text in the Night is a post from The Bellarmine Forum.
https://bellarmineforum.org/st-roch-a-text-in-the-night/
Do not repost the entire article without written permission. Reasonable excerpts may be reposted so long as it is linked to this page.