Podcast: Play in new window | Download
Last episode, we discussed game theory but never got to the point of it. Now, we discuss that the Vatican had hired McKinsey & Co to "modernize communications". McKinsey uses game theory to help their clients find the best path to navigate a market and uses consensus management to help companies move from point A to point B through competition and diverse market forces, especially to overcome reasonable criticism. Well, that's what we see happening in the Synod. We discuss the USCCB Synod Synthesis and see that we really are being gamed!
Chapter Markers:
00:00 – Start
00:40 – We're Being Gamed with a McKinsey & Co Word Salad Consensus Management Synod
03:29 – McKinsey and Company Uses Game Theory to Evaluate Best Options for a Business to Navigate threats and manage progress
04:25 – Vatican hired McKinsey to MODERNIZE COMMUNICATIONS (think how Woke Shows Treat their audiences)
05:22 – Modern Communications Disqualify Reasonable Criticism By Ad Hominem (hate speech, etc)
05:40 – Traditionalists were Disqualified by Tradiones Custodes — Eliminated all Trad opinions
07:28 – The USCCB document – Even the Picture on the Front is Misleading
08:38 – Modernists Live on Word Salads
09:11 – Brothers and Sisters? Shouldn't that be "They/Them"? No – this document is meant for YOU, not them
10:44 – The Title is a wreck (and already incorrect)
11:46 – "On behalf of us all"? Who? All of them versus little you. (the psychology of Delphi Consensus Management)
13:29 – "Writing Teams" The whole thing is highly filtered communications
14:36 – The Psychological Game of BIG NUMBERS and Exagerrated extent imply No Stone Left Unturned
16:18 – 700,000? were they even Catholic? Who participated?
17:32 – They were "deeply grateful" — i.e. you should be grateful and accept this massive effort without critical analysis of it
18:49 – Forcing you to accept the "Spirit of openness"?
20:04 – The "argumentative" and scary strawman that YOU are. They had to ignore you because you are mean and scary.
20:53 – Up to no good? When Crooks Feel Safe…
21:23 – "transformed by listening" — See, YOU are not transformed because you aren't "open"
22:14 – Should you be open to Every Faith Journey? Is every faith journey valid?
23:24 – Hallmark Gives Better and More relevant Platitudes
23:54 – Enhancing "participation" – Everybody gets a trophy, Everyone is special, especially those in error
25:10 – Obstacles to Communion? They aren't talking about mortal sin… they mean orthodox doctrine
25:48 – Polarization — like pro-abortion politicians?
26:09 – Receiving "Eucharist" brings more "solidarity with the poor???"
27:33 – Suggestions on "Building Communion Around Holy Communion"? wait, what?
28:13 – Welcoming means eliminating repentance? Oh, wait — it means YOU shut your mouth
30:09 – This was likely a target phrase identiifed before the synod
30:26 – Ironing in the insults on YOU — blaming you for why "they" don't feel welcome
31:21 – Old Modernist Tricks: Demonize Doctrine as Irrrelevant to Today
33:04 – Tired Canard of "Judging" .. but let's beat that dead horse some more for show
33:34 – The Felony Robber Should be walked with and allowed to Communion?
34:29 – The Emoptinoal wedge: you don't care and you act superior
35:39 – The Necessary LGBTQ+ mention, inclusive language brought to you by the USCCB
37:29 – The Flambeau "Lifestyle" still needed repentance and amendment
38:28 – McNullments no more — Coddling the Divorced and Remarried
39:48 – The Divorced and Remarrieds are Right: Why are Biden and Pelosi allowed to receive, but they aren't?
41:02 – Ignoring repentance and Amendment of life
42:17 – How People in iregular situations who also Loved Sacred Tradition did it
44:24 – The Attack is Revealed if we Consider Whether Giving Holy Communion would change anything
45:03 – Modernists Find Truth in emotions and impulses only
46:19 – "indigenous Catholics"???
47:41 – Are Ethinic Clashes gone? or did we just ignore them?
48:49 – Young People Want A Place at the Committee Table
49:51 – Conflicting Fights Over Who the Futue of the Church is… over the dead bodies of Gen-X, that is
50:42 – Young People Committees – Just like the Soviet Youth!
52:37 – Ongoing Formation… formation in what?
53:38 – "Coresponsilibity" a.k.a. WORKERS UNITE!
54:21 – It's your fault priests are busy — but more Lay Volunteers Won't remove all the bureaucracy beleaguering our priests
57:09 – Synodolazing? Doing Synod engages discernment and other word salads
58:29 – The Only Polarization that Matters – You're either With Him or Against Him
59:38 – The "Enduring Wounds" that they Continue to Ignore, while shoving others in your face
01:29 – Summary: the Baloney is there to Game us – Akita said they'd fight each other so that means they'll fight you too
03:26 – Outro prayer
03:57 – Preview — from Alexander the Great to the Miracle of the Sun coming
06:16 – Show Close – Summary
07:25 – Credits and a Bonus Spiritual Tip of the Week (if you struggle to say your rosary, do this)
Link to the USCCB Synod Synthesis Report
The USCCB has posted the PDF of the Synthesis document online. Click here if you'd like to see it first hand and save a copy of this fine literary work of accompaniment and walking with for yourself!

This article, BFP We Are Being Gamed by the Synod is a post from The Bellarmine Forum.
https://bellarmineforum.org/bfp-we-are-being-gamed-by-the-synod/
Do not repost the entire article without written permission. Reasonable excerpts may be reposted so long as it is linked to this page.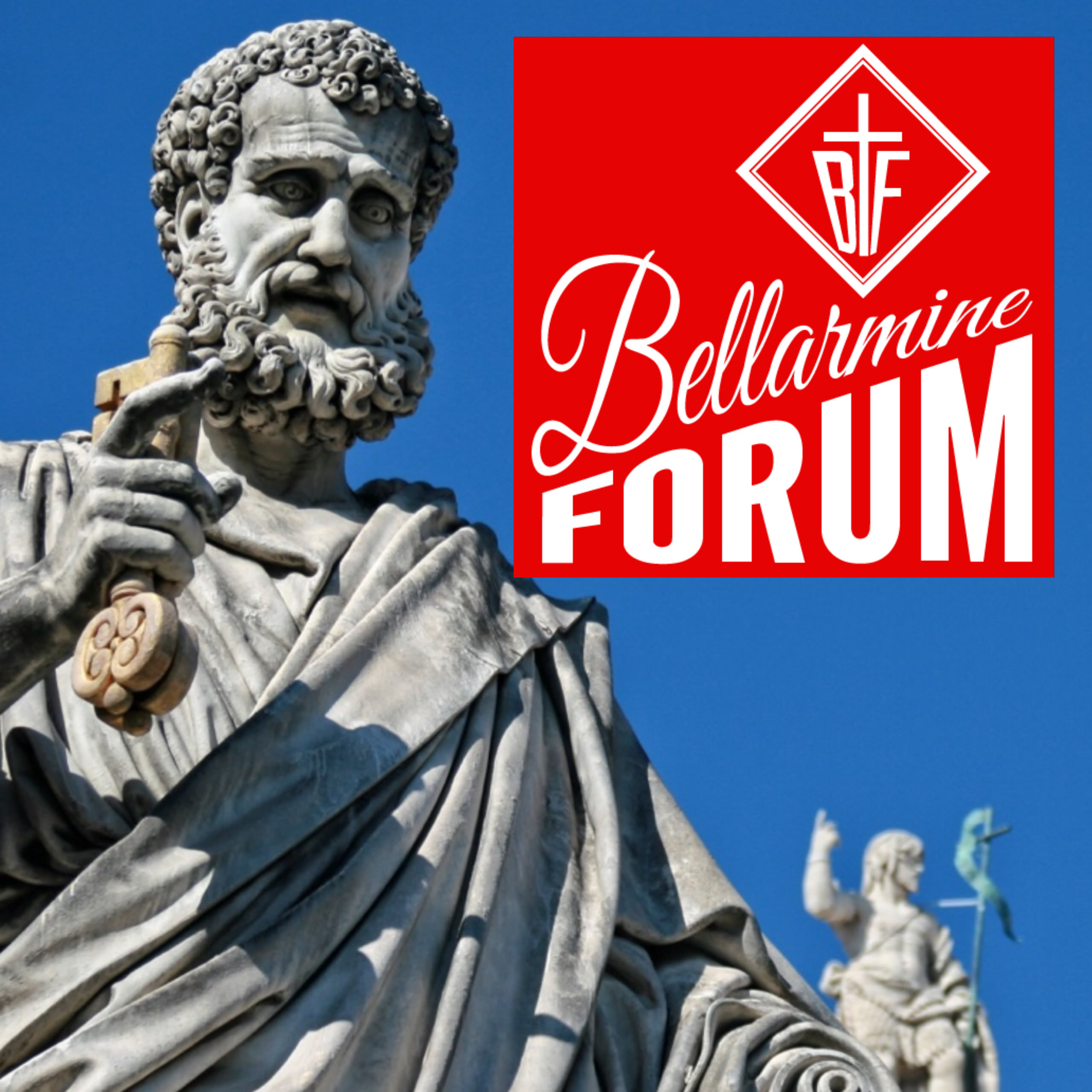 The Bellarmine Forum Podcast - The Bellarmine Forum
Bellarmine Forum
The Bellarmine Forum Podcast is Catholic commentary on anything from history, philosophy, and current events. Best viewed as an after-dinner chat.