Podcast: Play in new window | Download
It is the 90s all over again – but despite the smoke of prophecy-mania afflicting us today, there are some curious prophecies from Anne Catherine Emmerich and commentary by Yves DuPont, as well as some quotes from Masonic sources in 1955 conspire to make strange explanations of the Lutheran Synodality we see making democratic "collegiality" in the Vatican today. But why is the Synod silent on things Catholics are concerned about?
01:32 – Intro – Reliving the 90s — Prophecy MANIA!
02:42 – Fatima – we had THE IMPRESSION it was the Holy Father
06:09 – Two Popes – Yves DuPont Catholic Prophecy
Ven. Anne de la Foi. "There will be discord within the Catholic Church. In those days, men will wear women's clothes, and women will put on men's clothes."

82. M. Porsat (19th century). "There will be confusion among the clergy."

83. Quoted by Abbe Curicque (19th century). "What caught my attention repeatedly is that a large number of priests will join in the revolution."

DuPont, Yves, Catholic Prophecy: The Coming Chastisement. TAN Books 1973.
Oba Prophecy. "It will come when the Church authorities issue directives to promote a new cult, when priests are forbidden to celebrate in any other, when the higher positions in the Church are given to perjurers and hypocrites, when only the renegades are admitted to occupy those positions."

DuPont, Yves, Catholic Prophecy: The Coming Chastisement. TAN Books 1973.
The Two Popes of Anne Catherine Emmerich
16:18 – DuPont Citing Anne Catherine Emmerich – New Church built on Reason, Pope in Exile, Fake Pope in Office
May 13, 1820. "I saw also the relationship between the two popes… I saw how baleful would be the consequences of this false church. I saw it increase in size; heretics of every kind came into the city (of Rome). The local clergy grew lukewarm, and I saw a great darkness… Then, the vision seemed to extend on every side. Whole Catholic communities were being oppressed, harassed, confined, and deprived of their freedom. I saw many churches close down, great miseries everywhere, wars and bloodshed. A wild and ignorant mob took to violent action. But it did not last long."

Id.
Sept. 12, 1820. "I saw a strange church being built against every rule… No angels were supervising the building operations. In that church, nothing came from high above… There was only division and chaos. It is probably a church of human creation, following the latest fashion, as well as the new heterodox church of Rome, which seems of the same kind.

53.4 "I saw again the strange big church that was being built there (in Rome). There was nothing holy in it. I saw this just as I saw a movement led by Ecclesiastics to which contributed angels, saints and other Christians. But there (in the strange big church) all the work was being done mechanically (ie. according to set rules and formulae). Everything was being done according to human reason.

53.5 "I saw all sorts of people, things, doctrines, and opinions. There was something proud, presumptuous, and violent about it, and they seemed to be very successful. I did not see a single Angel nor a single saint helping in the work. But far away in the background, I saw the seat of a cruel people armed with spears, and I saw a laughing figure which said: 'Do build it as solid as you can; we will pull it to the ground.' "

Id.
Dupont himself interprets the above, and makes these observations:
From this prophecy, it is clear that the true Church will be faithful to the Pope in exile [BENEDICT?]; whereas, the new Pope in Rome will be, in fact, an anti-pope. [FRANCIS?] But, since a number of other prophecies tell us that the true Pope will die in his exile, it follows then that the true Church will be leaderless for some time. Then, it is not difficult to anticipate what the anti-pope and renegade hierarchy and clergy will say: "See, your so-called Pope is dead; and who can give you a new Pope now? Our cardinals have already elected the new Pope, he is here in Rome." [isn't that what they did with Francis????]

And, indeed, since the true Church will be completely disorganized, and the faithful Cardinals isolated, no new true Pope could be elected, and thus a large number of Catholics will be misled into accepting the leadership of the anti-pope. Such a schism could not happen if the Pope followed A. C. Emmerick's advice "to stay in Rome"

"But", she said, "the Pope is still attached to the things of the earth." And, as is said elsewhere, "He will want to save what he thinks can be saved." In other words, the true Pope, whoever he is at that time, will use his human judgment and leave Rome, instead of remaining firm in the face of the invaders.

DuPont, Yves, Catholic Prophecy: The Coming Chastisement. TAN Books 1973.
25:15 – Isolated Cardinals, the Synod, and questions
31:04 – Synod Silent on Blessed Sacrament, Strickland the Akita Bishop
You know they are waiting until after the Synod to whack Strickland.
35:54 – The Freemasons in 1955 looking for Synods, Collegiality, and Democratizing…
Paul A Fisher cites "In 1955, the New Age carried a three-part series urging Catholics to become active in demanding changes in the Church, particularly to democratize it, and to insist upon a strict accounting for donations, as well as having the laity choose their clergy, etc."
42:32 – Reliving the 90s — God is allowing this to happen
47:12 – The Truth survives Scrutiny — We should welcome scrutiny and engage in it freely
50:20 – There is no "Warning"… fake news
50:45 – When Does God act? Tower of Babel, Flood, etc tell us — and where was the clergy?
53:11 – Akita compromise? Synod document instruct to "make room for the Other"
54:15 – Byzantine Monk Prophecy of 1034 – Russia to crush Sons of Hagar?

This article, BFP – We had the Impression it Was the Holy Father — Two Popes and Curiously Acute Prophecy is a post from The Bellarmine Forum.
https://bellarmineforum.org/bfp-we-had-the-impression-it-was-the-holy-father-two-popes-and-curiously-acute-prophecy/
Do not repost the entire article without written permission. Reasonable excerpts may be reposted so long as it is linked to this page.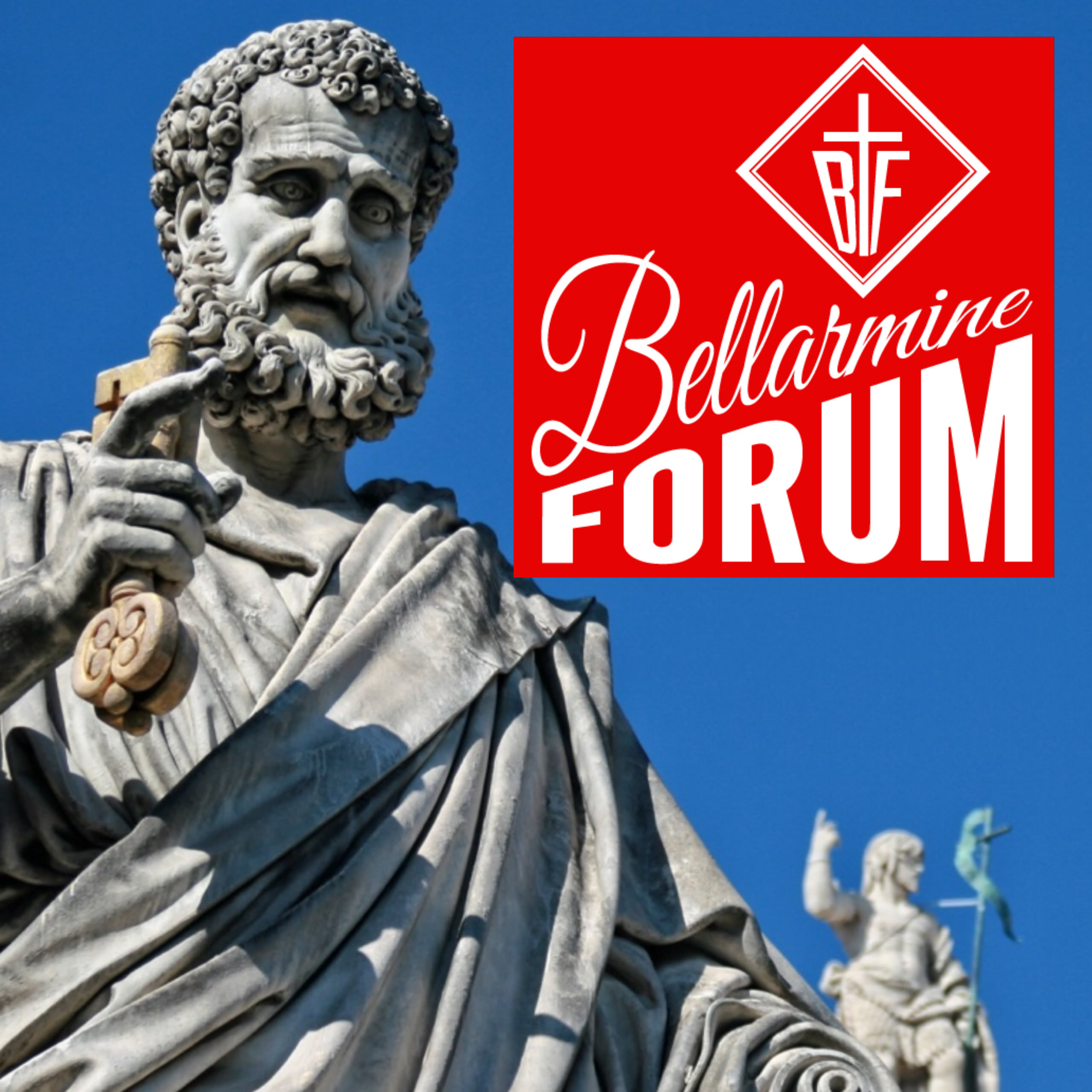 The Bellarmine Forum Podcast - The Bellarmine Forum
Bellarmine Forum
The Bellarmine Forum Podcast is Catholic commentary on anything from history, philosophy, and current events. Best viewed as an after-dinner chat.