Eternal Rest, Nicholas Gruner
Catholic Family News reports that Nicholas Gruner, aka Fr. Gruner, has passed away of a sudden death by heart attack. Says John Vennari in a blog post:
Father Nicholas Gruner, RIP It is my sad duty to announce the sudden death of Father Nicholas Gruner He died suddenly late today of a heart attack while working at his Fatima Center office. At the moment, I do not know more than this. […]He was truly the world expert on Fatima. He was more knowledgable on this subject, and on the true nature of the Fatima Message than anyone else. […] Please remember Father Gruner in your prayers, a good friend and a true Catholic Crusader. – John Vennari
Source: Father Nicholas Gruner, RIP | None | Catholic Family News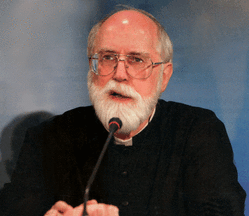 Over the years, if you discussed Fatima in any length, you have run across his messages, his newsletter, his disciples, and his ideas. I have to admit that as far as popularizing the topic, he certainly did keep the topic of Fatima alive.
At least a few times, he was a guest on late night radio show, Coast to Coast AM. And a few of those times, I managed to call in and get right on air to debate him. On one of those occasions, when I questioned him over the status of his public office as priest (that he had been suspended from priestly faculties was reported in The Wanderer June 3, 2003 – see an online version here), Art Bell hung up on me. I don't blame Art — Coast to Coast is about the curious and exploring things like messages from beyond. To talk about the status of his guest's capacity to be a priest in public isn't good radio. The rest of my question was interesting, and in hindsight, I wish I'd have kept my powder dry on the priestly faculties and fished out more from Gruner on why he never fleshed out the third secret we do have, instead of insisting that there was more.
To me, the third secret we got is more than enough — there's a lot of symbolism there, beyond the angel issuing fire from the flaming sword in his left hand. It shows the color standards of a perennial enemy of the Church occupying the entire edifice of the Church, suggesting that a group such as the Rosicrucians (whose colors are red and white, and whose ranks begat the likes of Martin Luther) totally invade the Church and attack the Pope with arrows (in scripture, these are lies) and bullets. Moreover, as I've mentioned here before, the approved vision of Akita mentioned the fire falling from heaven, the same as mentioned by the children of the angel at Fatima. There is also interesting timing as to world events and the Akita message that would support some of what Fr. Gruner said. He wouldn't hear it, though. Instead, Fr. Gruner played the intrigue card and believed among other things, that Sr. Lucy had been replaced by a body double, that there was a different third secret…  the fourth secret.
The problem I have with that approach is that it distracted any meaningful exploration of the third secret we have…  I don't know that I know the correct answers, but one thing Gruner and I could agree with is that the explanation we got wasn't very compelling. He, rather than leverage his resources towards a better understanding of the symbolism that was there, drove everyone to look somewhere else.
One thing is certain: he knows all the secrets now. May God grant his soul to rest. Despite the suspension or other things he incurred in his priesthood, he had been ordained a priest, and I believe, that even though I think he was wrong about some things, that he really did want to keep Our Lady's message that prayer and penance are necessary today alive.

This article, Eternal Rest, Nicholas Gruner is a post from The Bellarmine Forum.
https://bellarmineforum.org/eternal-rest-nicholas-gruner/
Do not repost the entire article without written permission. Reasonable excerpts may be reposted so long as it is linked to this page.