Magazine: THE FAMILY IN CRISIS! Summer 2015, Vol. V, Issue 2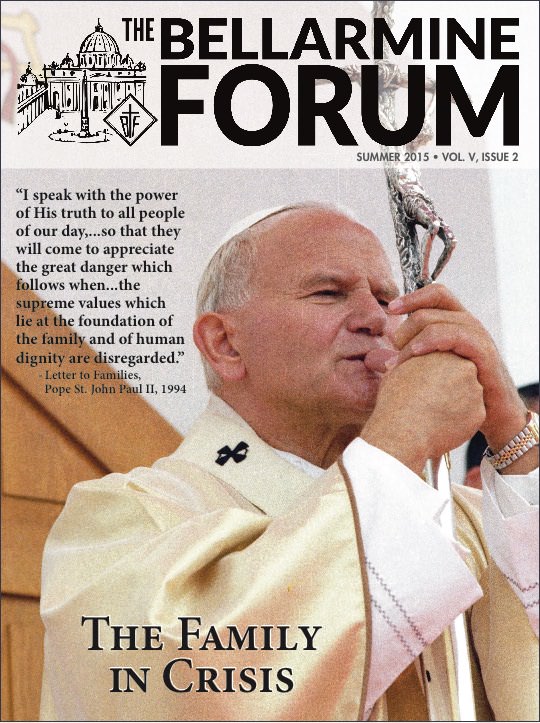 Frightening. That is the only way to describe the upcoming issue of the Bellarmine Forum magazine, The Family in Crisis.  It is simply not for the faint of heart.
The first issue in 2015, In Defense of the Family, plainly stated the traditional meaning of marriage and family life. This second issue clearly shows the satanic forces coming together to destroy all that is good that we know. David Deavel, Martin Dybicz, Charles Rice, Matt Yonke, and Catherine Deavel write about contraception, divorce, remarriage, and familial obligations in a society that cannot comprehend being obliged to do anything. Fr. Tim Sauppe raises the specter of the homosexualists to whom the Supreme Court has given free rein over the land and Joseph Susanka looks at film and media an how they have changed values, expectations and promoted aberrations in our culture.
It is not too late to renew your subscription or start a new one. Anyone ordering a new subscription will receive all 3 issues on the family in 2015 for $30. You surely don't want to miss the final issue, featuring the wise words of Raymond Cardinal Burke.

This article, Magazine: THE FAMILY IN CRISIS! Summer 2015, Vol. V, Issue 2 is a post from The Bellarmine Forum.
https://bellarmineforum.org/magazine-the-family-in-crisis-summer-2015-vol-v-issue-2/
Do not repost the entire article without written permission. Reasonable excerpts may be reposted so long as it is linked to this page.