Look Back on Your Year of Mercy with a Smile of Relief
DISCOVER A CLEAR PATH TO MERCY
2016 is the Jubilee Year of Mercy and the 2016 volume of the Bellarmine Forum Magazine is dedicated entirely to Mercy! 
Fr. Hardon tells us "The essence of Christianity is Mercy"
What does that mean? How do we do that?
This and more are all discussed and explained!
THE 2016 BELLARMINE FORUM MAGAZINE: MERCY
Don't Let Your Only Memory of the Year of Mercy be the Weird Logo and Confusion over Amoris Laetitia...
THE BEST AND EASIEST WAY TO MAKE YOUR YEAR OF MERCY WORTHWHILE AND PROFITABLE TO YOUR SOUL!
THE PROBLEM WITH MERCY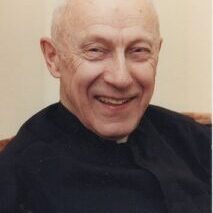 Father Hardon tells us that "Mercy is the spirit of Christianity"
He expands it to say: "If there is one divine attribute that we spontaneously associate with Christ and Christianity it is the attribute of mercy. Mercy, we may safely say, is the distinctive quality of being a Christian: to be a Christian is to be merciful."
BUT! CAN YOU DESCRIBE WHAT THAT MEANS?
Why do we draw a blank when trying to tell others about mercy? Why is it tough to describe and give concrete descriptions and discussion about mercy?
HINT:  It doesn't help that Justice is mentioned three times more frequently than mercy in the New Testament.
IF YOU ARE SOMEONE WHO KNOWS THAT...
Mercy does not eliminate Justice, but find it difficult to describe why
"compassion" is not mercy but not always able to put a finger on why feeling sympathy is not enough
"Blessed are the Merciful" is more than a slogan for a felt banner, but not sure how to tell others how to be merciful
"Mother of Mercy" is a title for Our Blessed Mother and want to explain why
being nice will not win the prize of eternal life, but struggle to explain to someone why Christianity is more than a disposition to speak like a customer service agent
THEN YOU WILL ENJOY READING...
Of the three levels of altruism, Justice is the lowest, and Mercy the greatest. Mercy cannot eliminate justice or it destroys its own basis. Mercy has reach beyond Justice, though, because we are to be merciful to those we owe nothing in Justice 
Compassion is mere emotion of sympathy. Mercy is action! It is being ready to help wherever there is a need and providing that help.
The beatitude to be merciful means...  yes, this hurts... to be ready to help those we do not even like.
Only two people born of a human mother were made outside of original sin, as a way for God to provide mercy to us, that is to help us who needed salvation from sin - Jesus and Mary. St. John Paul II said that "Jesus is the incarnation of Divine Mercy." Mary, then, is Mercy's Mother.
Mercy is not lip service and polite speech. It is forgiving those we do not want to forgive, and doing things in love even for those we cannot stand.
Join The Exploration of Mercy in the 2016 Bellarmine Forum Magazine
THE BEST AND EASIEST WAY TO MAKE YOUR YEAR OF MERCY WORTHWHILE AND PROFITABLE TO YOUR SOUL!
God gave to Mary, as St. Kolbe says, a "most magnanimous heart, so much so, that she could never fail to spot even the smallest teardrop on earth or neglect to worry about the salvation and sanctification of every man." 
She is "a bridge to the Most Sacred Heart of Jesus." 
Says St. Kolbe, "Should a person that falls back into sin despair?" 
Never! he says, because "he has a Mother given to him by God, a mother who watches his every action, every word, and every though with a benevolent heart. She is not concerned with whether or not he is worthy of grace of mercy. She just is the Mother of mercy, so she rushes to aid, even if she is not invoked, wherever misery of souls is most severe."
As part of Counsel, explains Fr. Hardon, "Among the virtues counselors need, none stands higher than mercy. Mercy knows how to be forbearing under provocation, and communicates this spirit to those who come for advice."
"no matter what their problems may be, two things they always need and that the counselor should offer by word and example are forgiveness of injuries (both real and imagined) and great generosity, both covered by the concept of mercy."
EVEN IF YOU DON'T WANT TO JOIN OUR EXPLORATION OF MERCY, DO THESE TWO THINGS TO PROFIT THIS YEAR!
MERCY: The disposition to be kind and forgiving. Founded on compassion, mercy differs from compassion or the feeling of sympathy in putting this feeling into practice with a readiness to assist. It is therefore the ready willingness to help anyone in need, especially those in need of pardon or reconciliation.
---
The FIRST THING: (hint, this comes from the Our Father):
FORGIVE everyone as God forgives you.
Make an effort to see the people who insult or injure you as an invitation from God to practice mercy. You know this is difficult to do, but God expects it, which means He is willing to give you the grace to do it.
The SECOND THING:
Recommend those people to the Blessed Mother, Mother of Mercy! By asking her to help, she will help you to be more merciful.
Got someone who is always on your last nerve? Pray for them right now, say a Hail Mary, and tell the Blessed Mother that you forgive them and want her to help them.
Join The Exploration of Mercy in the 2016 Bellarmine Forum Magazine

This article, Look Back on Your Year of Mercy with a Smile of Relief is a post from The Bellarmine Forum.
https://bellarmineforum.org/look-back-on-your-year-of-mercy-with-a-smile-of-relief/
Do not repost the entire article without written permission. Reasonable excerpts may be reposted so long as it is linked to this page.