Maria Magnificata.
Short Meditations for May, the Month on Our Lady's Life.
PREFACE. 
These meditations in miniature are intended for the month of May or October, or to accompany the recital of the Thirty Days' Prayer.  They are founded on the chief incidents in our Lady's life as recorded in Holy Scripture or handed down by tradition.  They are suited either for meditation, or for the reading of those who have no time for meditation, and who nevertheless wish to do something to honor Mary and testify their love for her.  Each of them is broken up into three heads or points, intended to furnish, directly or indirectly, some practical suggestion for him who reads or meditates thereon.
If this little book should in any way contribute to Mary's honor, it will have fulfilled the object with which it was written.
The meditations below are listed by the date of the Month. So, to find the meditation for May 23 or October 23, go to the one starting with 23.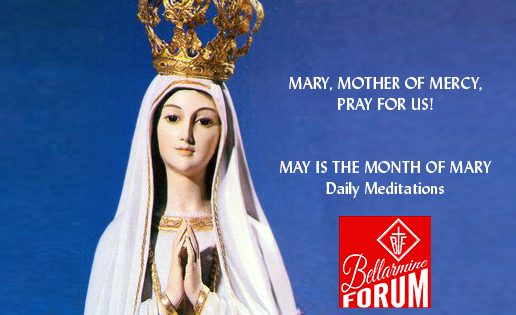 Mary's Immaculate Conception. The Lord said to the serpent, I will put enmities between thee and the woman. (Gen.  iii.  14, 15.) 1.  In these words the Immaculate Conception of the Blessed Virgin Mary was announced to our first parents.  It was to be the reversal of the friendship with the serpent contracted by Eve […]
Click to Continue Reading

This article, Maria Magnificata. Short Meditations for May, the Month on Our Lady's Life. is a post from The Bellarmine Forum.
https://bellarmineforum.org/devotional/the-catholic-daily/maria-magnificata-short-meditations-may-month-ladys-life/
Do not repost the entire article without written permission. Reasonable excerpts may be reposted so long as it is linked to this page.